Raptor Offroad Coating / Painting Melbourne
We raptor coat 4x4 - 4wd Vehicles / Accessories.
Why Raptor Coat your 4wd Vehicle?
Raptor provides the ultimate choice in paint protection for your offroad 4x4 vehicle. Raptor coating is extremely versatile and comes in two varieties, Raptor Black the standard colour, and Raptor Tintable which can be tinted to any colour. It provides superior protection compared to other bed liners and coatings.
If you do lots of offroad driving and 4wd activities , raptor coating your vehicle might save you lots or repainting costs when things get damaged.
Raptor protects against scratches and damage , it is much more resistant than an factory paint job. Raptor coating prevents rust, corrosion and is suited for extreme temperatures. It is perfect for offroad vehicles that weather the elements.
What can damage the factory paint offroad ?
1. When driving your 4x4 offroad you can scrape rocks , trees and unexpected contact occurs.
2. Acid in animal droppings can wear away at the paint leaving stains and marks.
3. Gravel from dirt tracks can impact and damage the paint's outer layer.
4. Even mud and dirt that is left to cake on the surface can damage your paint.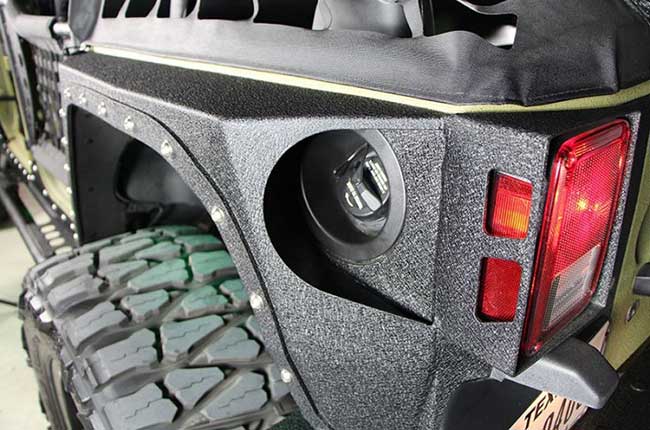 How can Raptor coating prevent this damage
Raptor coating has a special hardened offroad formulation making it very difficult to scratch or damage the finish.
Raptor will protect your paint against all of the above and also make any future repair jobs much cheaper since raptor coat is easier to apply for a repair than traditional 2 pack coatings, in turn it would be saving you money in the long run compared to standard car paint.
What surfaces can Raptor coat be used on?
Raptor is extremely versatile and can be applied to steel, aluminium and zinc-coated metals. It can be used on all cured 2K paints.
It can even be used on fibreglass, vinyl and plastic.
Raptor can be applied to 2-part epoxy primer, provided that the area to be lined has been properly cured and sanded.
Raptor can also be applied to a powder coat. When applying to powder coat an adhesion promoter is used beforehand to ensure adhesion.
Raptor can be applied with a smooth or a textured finish. Because of its flexibility the coating will expand and shrink with the panels as your vehicle is exposed to both high and low temperatures. This means it will not peel or crack.
Textured or smooth finish ?
To apply a textured finish, the pattern can be changed by changing the speed of the spray application and altering the distance that the spray gun is held from the surface.
Using a higher or lower spray gun pressure will also change the texture – lower pressure will give a rougher finish.
Paint thinner can also be added to give a smoother finish.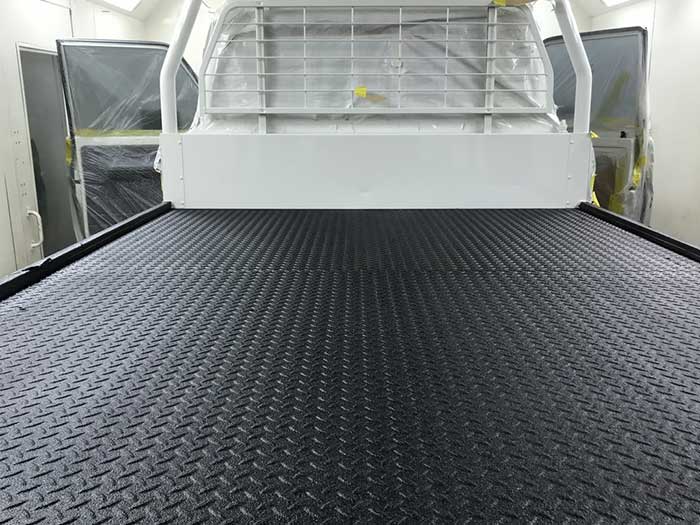 What other advantages does Raptor coating offer?
It provides the ultimate UV protection, so even after years of exposure to the sun the paint will not chip away. It seals against water and other fluids that may come in contact with your paint. It also resists against fuels and hydraulic oils and automotive solvents.
There are a number of advantages to giving your 4x4 a professional Raptor respray. The most important one is that you will preserve the integrity of your base coat for much longer than if you leave it with the standard coating. This will obviously have a great effect on the resale value and most importantly reduce your costs to repair any damage sustained to the bodywork while your car is offroad.
Because of Raptor's gloss it will preserve the appearance of the paint on your 4wd even when it's been in harsher offroad and bush environments.
Having Raptor coating applied professionally will ensure a smooth consistent finish and because of its durability, the coating can last as long as you have the vehicle. There is no other coating that can compete with Raptor's durability and longevity.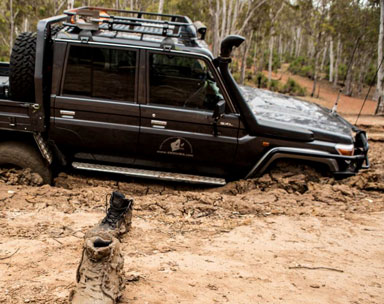 Raptor Warranty
All our Raptor 4x4 resprays have a 3 year warranty. This covers our workmanship and product range.
Gallery of our Raptor Paint Work
Images of our recent work