How our Bumper / Panel Damage Service Works ?
1. You send us an image of the damaged bumper or panels / or make an appointment and bring the car of assesment .
2. You get a quote and if happy make an appointmnent with us. 3. You drop off your car on the designated day for the bumper or panel repairs.
4. We repair the car in our workshop often same day and you collect the car when it is ready.
4. In most cases we can offer an overnight or 2 day service


Panel and Wheel Repair in Detail

Nothing is more stressfull or annoying than an accident leaving your car or wheels scratched or damaged and making life inconvinient for everyone involved.
It doesnt have to be that way and here at Wheel Buddy, we can help you with a next day service for your bumper repair, panel repair , car touch up or wheel painting plus we fix dents on cars or other problems with the body of your vehicle.
With our appointment only service and great pricing you can be back on the road fast and for less than your insurance Excess in most cases.

We use professional panel and wheel repair methods and techniques to ensure the repair quality is at the highest of standards meeting all the industry guidelines.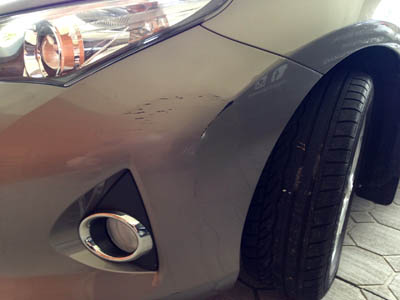 Why is wheel buddy cheaper than a larger operator or insurance agent ?

Most other places will request for you to replace an entire part even if the damage is minimal.
This means that for a small scratch on a bumper it would cost more than $1000 to replace that whole part with a new one and have it painted to match .
Instead of this ..at Wheel Buddy we can fix and blend just the damaged wheel or panel section for a fraction of the cost , still leaving the part looking brand new and covered by a 2 year warranty.
Our option makes small to medium damage repairs are far smarter choice saving you money and getting you back on the road faster.


More Detail about Car Body Repairs

Bumper repair can be defined more clearly by a plastic repair , when repairing plastic components you need to have an understanding of plastic substrates. Our team of painters has more than 10 years experience reshaping moulding and fixing plastic bumper components so you can be sure your car is in the best possible hands for this sort of damage.


Colour Matching Car Panels
Our colour matching system has over 20,000 samples of colours to use, whilst in some cases its not possible to match 100% to your car colour , the goal is always to be close enough so on appearance it looks correct and not out of place, We work with our customers to ensure they are happy with the repairs and every bumper and panel repairs passes a quality checking process before being released to the customer.