Alloy Wheel Repair Melbourne

Damaged wheels can have a big impact on the life of the car and its resale value, so it is important to get them fixed promptly and professionally. Depending on the type of damage involved and whether the wheel is painted or not, there are different methods applied to repair alloy wheels. Repairing damaged wheels is usually much more cost effective than having them replaced.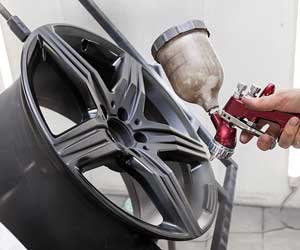 Curb rash is a very common type of damage that can be repaired relatively easily. This typically occurs when the rim is scratched against the curb causing abrasive damage to the outer section of the rim. The damaged section is repaired by having sanding applied and paint can be colour matched to the wheel.

Sometimes there are bends in the inner or outer lip of the wheel which are typically caused by potholes or other road hazards. In this case the most viable repair option is to have it straightened, this can be done with advanced machine technology.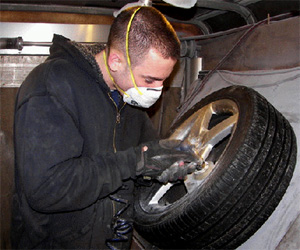 Gouges are often caused by direct contact with road debris. The gouge needs to be inspected first to determine the extent of the damage and if it is not too deep, the gouged area can be welded with new alloy material or filled in with body filler.

If a wheel is machine faced rather than painted, which is increasingly common for factory alloy wheels these days, then the affected area can be sanded and polished, however in order to restore the wheel to its original condition, it requires use of a CNC profiling lathe. This can be achieved in less time than repainting, however the previously damaged area will still be slightly more noticeable than on a painted wheel.

Small cracks on the surface of the rim can be repaired with welding and machining the cracked area, however significant cracks or any cracks on the spokes or bead seat of the wheel are usually unsafe to repair and require the wheel to be replaced.

When repainting a wheel it is important to colour match the paint as close to the original colour as possible. This preserves the look of the wheels and ensures that the repainting is not obvious. Blending techniques are used to make the painted area appear smooth and glossy. Sometimes if the damage is not on the outer section it may be necessary to repaint the entire wheel, in this case it is often better to have both wheels on the same side repainted, or all 4 wheels, to maintain colour consistency. If the wheels are original in black or white however, the colour can usually be repainted on one wheel without requiring any repainting on the others.

Powder coating is a finishing process that offers an alternative to the more traditional finishes like paint. Powder coat offers greater durability, impact resistance, and improved wear characteristics in comparison to other finishing options. In addition to the improved durability, powder coating is offered in a great variety of finishes including basic gloss, semi-gloss, and flat finishes. There are thousands of colours available to choose from and if a specific colour is needed then custom colour matches can be made to match. The downside of powder coating is it cannot achieve a glossy effect, and the selection of colours is somewhat more limited compared to paint.

Many wheels gradually lose their shine over time and become faded or dull, these can be repaired by wheel polishing. There are a variety of different machines available to polish wheels, but the important thing is to maintain the finish without causing any scratches.

A common cause of corrosion in alloy wheels in brake dust. This is caused by the abrasion between the brake discs and pads. Although this is normal, if left unattended for a long period of time then the brake dust will start to corrode the metal. Even if the corrosion is quite bad, the good news is this can still be repaired. The surface can be sanded down and then powder coated or resprayed and then coated again to restore the smooth clean finish.

In summary when your wheel is damaged there is usually a cheaper and more efficient method in repair rather than going to the expense of a replacement, and these repair options will have your wheels looking good as new.